---
It is with special pride that NOCSAE welcomed the start of the lacrosse season this year. Our leadership in sports safety will be part of the action on playing fields all over the nation. There's an interesting story behind this about how a scientific discovery changed what is known about sports play. And, about how NOCSAE-funded research made it happen. 
Mysterious deaths among young athletes
We were already studying injuries caused by concussive hits before news stories brought it to the public's attention that athletes were sometimes dying from what appeared to be a minor blow to the chest. These events were thought to be rare. But each death was not only a tragedy because it was a life lost — the circumstances of the fatalities were stunning. Wholesome, often young, athletes with no underlying conditions collapsed on the playing field. Most efforts to resuscitate were unsuccessful. 
The syndrome had a name, commotio cordis (CC), which means "disturbance of the heart," but no one could explain why only some hits over the heart were fatal, nor why so many of the victims were adolescents. Adding to the mystery was that there was no physical damage to the heart. 
Joining forces, and a major discovery
More incidences of CC began to be reported in the late 1990s after an article in the New England Journal of Medicine raised awareness of the phenomenon. Dr. Barry Maron, one of the article's authors, would later take on an important role in NOCSAE's efforts against CC. 
Meanwhile, NOCSAE-funded research efforts were making headway. Good stories have heroes, and Dr. Mark Link turned out to be one of the heroes of NOCSAE's commotio cordis story. He is an expert in electrophysiology and specializes in abnormal heartbeat patterns. He was chosen to spearhead our research efforts because he had been making impressive progress on the problem in his lab at Tufts University. 
Dr. Link made a key discovery, answering the most puzzling question about CC. Why were some hits to the chest lethal even though most were not? He found that only hits striking at a critical moment in the cardiac electrical cycle cause CC arrythmia. Force transferred from a striking ball, through the chest wall to the heart, interrupts the heart's cadence, sending it into a disorganized rhythm that fails to circulate blood through the body. Because of Link's discovery, the world now knew how an ordinary-seeming ball strike can cause death. 
Turning point
In 2000, NOCSAE received a call from a mother who had just lost her 14-year-old son to commotio cordis during his first high school lacrosse game. This tragedy became the inflection point, resulting in NOCSAE's bringing to bear all its resources to attack CC. 
Beyond the lab, onto the playing field
NOCSAE's role in athlete safety is to write performance standards for athletic equipment. Sports equipment manufacturers design their products to perform to these standards. NOCSAE's CC challenge was to develop a method for testing protective equipment against the conditions that cause this injury. There was still a lot of work to do. 
Dr. Nathan Dau's work in the Sports and Ballistics Lab at Wayne State University for NOCSAE yielded an important leap toward developing such a standard. He created a biomechanical chest surrogate to model, and measure, the human response to ball impacts.  
In a series of further studies for NOCSAE, Dr. Link found that only perpendicular hits over the center of the heart cause CC. He also identified the injury prevention threshold, which is a measure of how much impact force is necessary before commotio cordis is triggered. This is a key metric to test equipment performance. It is one of the measures manufacturer's need to develop prototypes. 
Almost the end of the story is that, based on the research we funded, the world's first CC standard was approved by the NOCSAE Standards Committee. ND-200: Standard Test Method and Performance Specification Used in Evaluating the Performance Characteristics of Protectors for Commotio Cordis. NOCSAE also funded the establishment of a national registry to track CC cases, which was organized by Dr. Maron. As a result, it is now known that 15 – 25 athletes die from CC annually. 
This year youth, high school, and collegian lacrosse players will be gearing up in CC protectors manufactured to meet NOCSAE's standard. The rest of the story is that these protectors must fit properly, according to manufacturer instructions. It's also important for AEDs to be available on the field in case of emergencies. 
A close call
One of my athletic trainer colleagues, Craig Lindsey of Moeller High School in Cincinnati, shared his experience responding to a CC emergency during a lacrosse game.  
As he told it, the player at first appeared to be having a seizure, but because of his training, Craig realized right away he was looking at a commotio cordis event. Acting quickly, he was able to get an AED in place, and the athlete survived.  
In Craig's words: "Thinking back to that day, I just remember that in a matter of 45 minutes, we went from a life and death situation on the field, to me visiting with and holding a normal conversation with the athlete and his parents in the emergency room. It really didn't hit me until I called my wife on the way home, and I broke down and cried. This athlete was the same age as my own son, and I couldn't imagine what his parents must have been going through as they witnessed their son laying lifeless until we administered treatment with the AED unit." 
Annually, about 66% to 80% of CC cases occur in adolescents. It's thought that this is because their chest walls are still somewhat pliable and more vulnerable to impacts near the heart. As we age, the chest becomes stiffer. Cases occur most frequently in sports with projectiles, such as baseball, softball, lacrosse, and hockey. Although, it can also occur from hits with a fist or foot, as in martial arts. 
The story of how NOCSAE developed the standard to lower CC risk spotlights our leadership in sports safety research. The National Operating Committee on Standards for Athletic Equipment is a nonprofit, ANSI accredited, standards development organization whose sole mission is to improve athlete safety through scientific research and the creation of sports equipment standards. Look for the label below to confirm your gear meets the NOCSAE standard.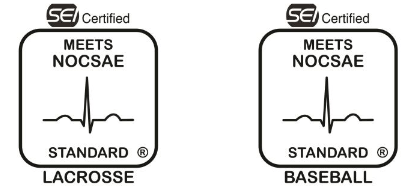 About NOCSAE
NOCSAE, the National Operating Committee on Standards for Athletic Equipment, is an independent and nonprofit standards development body with the mission to enhance athletic safety through scientific research and the creation of performance standards for athletic equipment. Formed in 1970, NOCSAE is a leading force in the effort to improve athletic equipment and, as a result, reduce injuries. NOCSAE efforts include the development of performance and test standards for football helmets, gloves and facemasks, baseball and softball batter's and catcher's helmets, baseballs and softballs, ice hockey helmets, soccer shin guards, lacrosse helmets and facemasks, and polo helmets. NOCSAE is comprised of a board of directors representing stakeholders from a number of groups – including consumer and end users, equipment manufacturers and reconditioners, athletic trainers, coaches, equipment managers, and academic and sports medicine associations. These diverse interests have joined forces in an attempt to arrive at a common goal of reducing sports-related injuries. NOCSAE is a nonprofit, charitable organization supported by individuals and organizations with an interest in athletics. For more information, please visit www.nocsae.org.