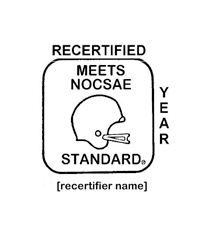 NOCSAE standards include recertification standards for helmets used in football, baseball, softball, ice hockey and lacrosse.
Recertified helmets must have a recertification label that includes the name of the recertifying firm and the year of recertification. This seal may be placed on the interior or exterior of the shell in an area in which it can be easily read without removal of any permanent component and will also contain the following language: "This helmet has been recertified according to procedures established to meet the NOCSAE Standard."
Recertification is not mandatory under NOCSAE standards, although it is strongly encouraged. Manufacturers may choose to prohibit the recertification of a helmet model. However, NOCSAE standards do mandate that if a manufacturer has obtained certification of compliance with NOCSAE standards for helmets and it prohibits the recertification of a helmet model, it must specify a useful life of the new helmet certification. The date label related to these requirements is to be permanent so there is no confusion as to when the helmet's certification has expired. (See 9.5 under "Labeling and Instructions" in the NOCSAE Standard seen here).
NOCSAE believes that recertification of helmets is a significant benefit for the consumer and encourages manufacturers to permit recertification.
NOCSAE also recommends that organizations adopt and follow a program of helmet inspection and reconditioning that meets their particular needs, based on age and size of players, severity of helmet usage, ages of helmets, among other factors. For example, some schools recondition and recertify their football helmets every year, others every two years.
There are currently 18 reconditioners nationally that are licensed by NOCSAE to recertify football, lacrosse, ice hockey, softball and baseball helmets. For more information about recertification and reconditioning, contact: National Athletic Equipment Reconditioners Association, http://naera.net/.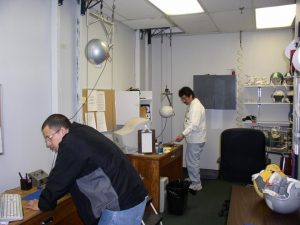 (Above) The NOCSAE Football Helmet standard test is performed.
View Recertification Standards